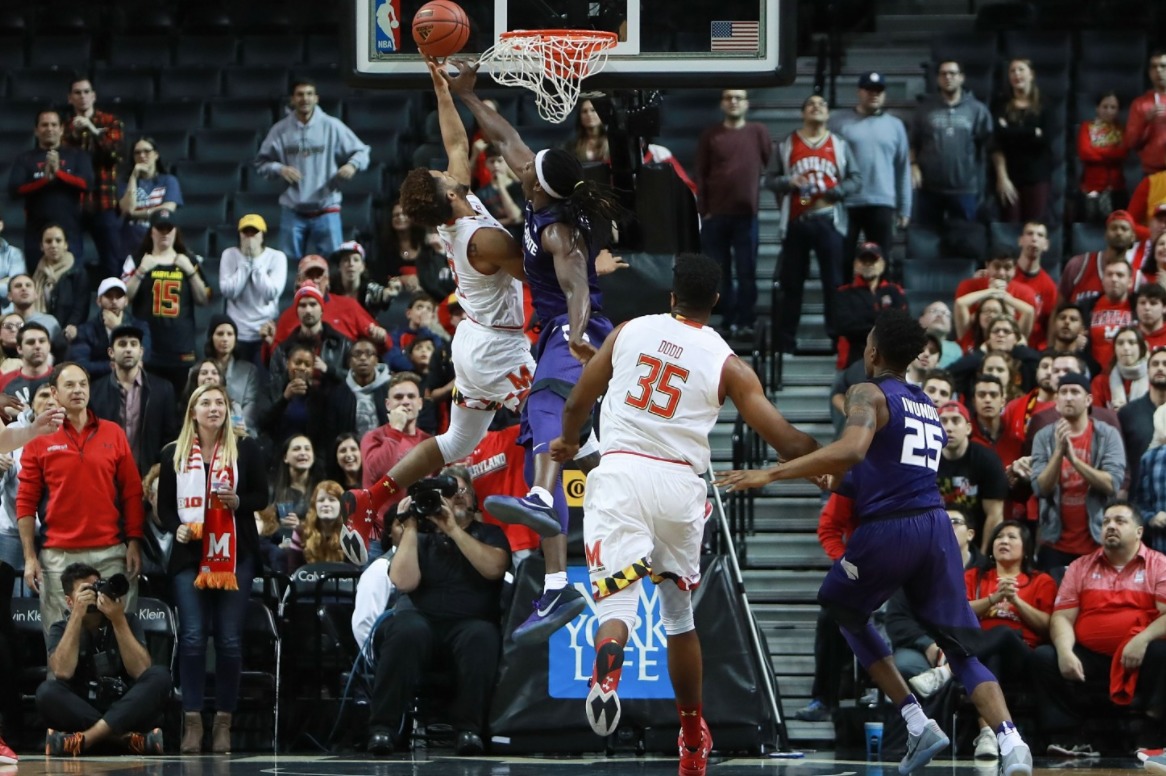 Thanksgiving week is always a great one for college basketball. High major teams are forced to actually play other high major teams from other conferences. There's a ton of games and the best teams seem to separate themselves a little bit.
Unless it's the Big Ten. I don't really feel like I totally know who's good and who's not. There could be nine good teams and there might be three. I can say with certainty that there are no great teams in the league right now. That's not to say there won't be one or two by the end of the year, but everybody has very noticeable flaws at the moment.
The end of Thanksgiving week is a very scary time. There's no more basketball to be watched in the afternoon and all the food and binge drinking is put on hiatus until bowl games start in football. I actually have to work. It's the absolute worst.
We do get the ACC-Big Ten Challenge this week, which is nice. More tests for a league that looks fairly mediocre right now. We'll see. The Big Ten is 5-0-2 in the matchup the past seven years, but the ACC appears to be a much better group at the moment. The individual matchups are everything, however. Even still, KenPom has the ACC favored in nine of the 14 games, and the Big Ten isn't favored by any more than five points in a game. It's also cheating that Boston College isn't forced to play.
---
Five Six Stars of the Past Week:
Ethan Happ, Wisconsin – averaged 15.0 points, 10.0 rebounds in four games
Caleb Swanigan, Purdue – averaged 17.0 points, 11.0 rebounds in three wins
JaQuan Lyle, Ohio State – averaged 13.0 points, 7.3 assists in three wins
Miles Bridges, Michigan State – averaged 19.3 points, 8.0 rebounds, 2.0 blocks in three games
Melo Trimble, Maryland – averaged 23.3 points, 2.0 steals in three wins
Deshawn Freeman, Rutgers – averaged 19.5 points, 12.5 rebounds in two wins
Five Best Games to Watch This Week:
Syracuse at Wisconsin, Tuesday, 7:30 pm EST, ESPN
Michigan State at Duke, Tuesday, 7:30 pm EST, ESPN
Purdue at Louisville, Wednesday, 7:15 pm EST, ESPN
North Carolina at Indiana, Wednesday, 9:15 pm EST, ESPN2
Ohio State at Virginia, Wednesday, 9:15 pm EST, ESPN2
---
1. Wisconsin (Last week: 4 / KenPom: 8)
The fact that I have the Badgers in the top spot this week says everything about how I feel about the top teams in the conference. I think I picked them to finish fifth. I still don't think they're all that great. But they at least have a sure identity.
I think their trip in Maui once again proved that they're at their best offensively when Ethan Happ is getting the ball down low. Not only is he great around the bucket, but he's one of the best passers on the team. It's nice when Bronson Koenig gets hot and is knocking down shots, but he's a high-volume shooter that is currently making 24.6% of his three-pointers. Nigel Hayes just isn't a consistently efficient player. Feed Happ.
This week: home for Syracuse and Oklahoma
2. Purdue (Last week: 3 / KenPom: 16)
All in all, it was a good week for Purdue. They ran away with both games in the Cancun Challenge and slogged their way through a victory over NJIT. That game was closer than it should've been, but Damon Lynn was hot and the guy has hit a million threes in his career for a reason.
Time to pat myself on the back.
Offensively, their perimeter shooting has been poor. I wouldn't expect that to continue all year. Their big men get all the attention and it's perceived that the team can't shoot for some reason, but they shot 37% from three last year and over 38% in Big Ten play last year. Shots will start falling soon and Ryan Cline coming back from suspension will help in a big way. The turnovers are a real problem, however. Also, anytime Vince(nt) Edwards wants to wake up would be a good time.
They made 37 shots from outside in their three games last week. They also still had 50 turnovers. Also, those turnovers continue to be a problem for the big men on the team, as opposed to the guards, despite what you might read/hear from national media members that are bad at their jobs. Their four frontcourt guys accounted for 34 of those turnovers last week. Their guards have handled pressure damn near flawlessly this year, BUT narratives and stuff.
This week: at Louisville and home for Morehead State
3. Michigan (Last week: 2 / KenPom: 25)
Michigan dropped one at South Carolina and it was rather ugly. They made 10 shots. On 52 field goal attempts. They turned it over on 26% of their possessions. Scored 46 points.
They bounced back with a much better showing at home against Mount St. Mary's, but you're left with more questions this week about the Wolverines than answers.
They're shooting a high volume of three-pointers, which isn't a surprise because it's the same thing they did last year. When they're on, they're really tough to beat. But when they're 2-26 from out there like they were against USC, it's basically impossible for them to beat anyone decent. They even uncharacteristically had a big number of offensive rebounds and still only mustered 46 points. 24 of which they got at the free throw line.
Ever since DJ Wilson emerged, Duncan Robinson has seen significantly less playing time. Wilson gives them a big upgrade defensively, but it hasn't done wonders for their offense. That rotation seems like something John Beilein may need to figure out. They certainly needed to be better defensively this year, but Robinson's constant threat to shoot from outside was a big reason for their offensive success last season.
This week: home for Virginia Tech and Kennesaw State
4. Indiana (Last week: 1 / KenPom: 20)
The Hoosiers obviously had the loss of the early season when they dropped one at Fort Wayne this past week. Bad loss? I guess. But it's not nearly as bad as it was made out to be. Fort Wayne is probably in the top third of college basketball teams. The game was in Fort Wayne. OG Anunoby didn't play the second half and wasn't himself in the first. It happens.
That's not to say it's all fine and dandy, though. They got outplayed everywhere but at the post position. The turnover issue from last year has lingered and gotten worse. Their lead guard went from Yogi Ferrell to James Blackmon. Blackmon is actually a better natural scorer than Yogi, but he doesn't have nearly the same ability to set up teammates as Yogi. His career high is four assists in a game. In addition, he's still pretty piss poor defensively.
Wednesday should be interesting.
This week: home for North Carolina, SIUE, and SEMO
5. Ohio State (Last week: 7 / KenPom: 21)
Impressive couple of wins for the Buckeyes this week. Not that the opponents were very good, but OSU buried them. They've had a tendency to let vastly inferior teams talent-wise stick around and the fact that they've soundly beat three opponents in a row shows improvement and dare I say…consistency?
Keita Bates-Diop hasn't even been playing. However, two guys have stepped up: JaQuan Lyle and Trevor Thompson. I've harped on the chaotic production levels of everyone not named Jae'Sean Tate and Lyle and Thompson have been nearly as steady lately.
Lyle had a slow first two games where it appeared he may be back in Thad Matta's doghouse (again), but the past four games he's been efficient scoring the ball, set up his teammates, done a fair share of rebounding, and limited his turnovers.
Thompson has brought a great deal of production off the bench. He's doing all the things Matta wants him to do and doing them well. Getting easy buckets, rebounding at an elite level, and blocking shots.
They'll need those two to continue that type of play if they are going to have any chance of stealing one at Virginia.
This week: at Virginia and home for Fairleigh Dickinson
6. Michigan State (Last week: 5 / KenPom: 30)
I'm still withholding a lot of judgment on this team until at least conference play starts. Couple things though: 1. beating Wichita was impressive and 2. Eron Harris has to be a steady second option if this team is going to be anything.
This week: at Duke and home for Oral Roberts
7. Maryland (Last week: 6 / KenPom: 55)
Well, they're undefeated still. Melo Trimble is gonna be exhausted from carrying this team in, like, January. The good news for him and the Terps is that it appears Michal Cekovsky has improved quite a bit over the offseason, as opposed to all the other guys I pointed out last week.
This week: home for Pittsburgh and Oklahoma State
8. Northwestern (Last week: 8 / KenPom: 50)
It looked like it was gonna be a banner trip to Brooklyn for the Wildcats. They beat Texas in the first game and just needed to make their free throws and get one stop to close out Notre Dame. Well, they needed to inbound the ball before all that. Didn't happen.
Poor Nathan Taphorn, man. I've always liked the kid since watching him play with the Illinois Wolves on the AAU circuit. His career hadn't quite panned out like I thought it might and now this. No one is going to remember him hitting four three-pointers in possibly a program-changing win over Notre Dame. They'll just remember him throwing the ball away at the end and then subsequently fouling an Irish player for an and-one.
Now "program-changing" may seem pretty heavy, but I don't think it's really that far-out to say. The story of the Wildcat program is that they've never been to the NCAA Tournament. Wins like that against Notre Dame in the non-conference have been what they've been missing. Of course they'll have plenty of chances in Big Ten play, but KenPom projects them to go 19-12 with a 9-9 record in conference. You know where that puts them? Squarely on the bubble. You know what would be a big help in getting them off the bubble and in to the tournament and thereby changing their program's history? BEATING NOTRE DAME ON A NEUTRAL COURT.
This week: home for Wake Forest and DePaul
9. Minnesota (Last week: 9 / KenPom: 60)
The Gophers just keep winning right in my big dumb face. They cruised over Arkansas and Southern Illinois this week. Amir Coffey looks like a guy that will contend for All-Big Ten sooner, rather than later. They're playing very well defensively. All is well in Minneapolis.
However, this week will be their first time leaving Williams Arena for a game. More tests for Richie Pitino's crew.
This week: at Florida State, Vanderbilt in Sioux Falls
10. Nebraska (Last week: 13 / KenPom: 76)
I was able to watch a lot of Nebraska's win against Dayton in Anaheim and was very impressed. Based on the two programs recent histories, I fully expected the Huskers to choke one away down the stretch. And they nearly did! Ultimately, however, Nebraska did just enough to escape with the victory. Glynn Watson and Ed Morrow stepped up big-time and helped Tai Webster out.
They weren't as successful with UCLA and Virginia Tech, unfortunately. The Bruins and Hokies may be two of the most improved programs in the country from a season ago, however. The Huskers were in both games and showed some real flashes.
Of course the biggest question is whether they can keep it up. It's not the first time Watson (who also went for 27 against UCLA) and Morrow have had big games. They need to be steady over the course of the season.
This week: at Clemson, home for South Dakota
11. Iowa (Last week: 11 / KenPom: 72)
Yikes. The Hawkeyes were dominated in every single way by Virginia and then lose to Memphis despite an ultra-efficient 42 points from Yung Jok. The Hawkeyes scored 1.21 points per possession against the Tigers and still lost. For you non-sabermetric types out there, 1.21 ppp is very, very good. It looks like it could be a really long season in Iowa City. I think Notre Dame is going to smoke them.
This week: at Notre Dame, home for Nebraska Omaha
12. Rutgers (Last week: 12 / KenPom: 165)
STILL UNDEFEATED! Of course they haven't played anybody in the top half of the country, but still. That's progress. They're still leading the country in offensive rebounding percentage at 50% of their missed shots. There's a lot that they still don't do particularly well offensively, but if they keep that up, they'll be able to compete all year.
This week: at Miami (FL) and home for Morgan State
13. Penn State (Last week: 14 / KenPom: 102)
George Washington isn't at the same level they've been the past few years, but that's still a massive win for a really young Nittany Lion team, especially considering that they were down 10 in the first half. It's felt like since the opening night loss to Albany, this team hasn't gotten better each time out, with the exception of the Cincinnati game. They've got a chance to really build up some confidence over the next month and change heading into conference play.
This week: Georgia Tech and Wright State at home
14. Illinois (Last week: 10 / KenPom: 92)
There's far too much experience on this Illini team for them to play like they did this past week. John Groce's seat is officially toasty.
This week: home for NC State, VCU in Miami