THE FORMAT
All 11 teams make the field, Top 5 get the byes. Starts on Wednesday and ends on Saturday with every game being played in Boise.
The first three rounds will be streamed on Pluto TV. Quarters and semis will be on Eleven Sports. Championship game will be on ESPNU.
THE BRACKET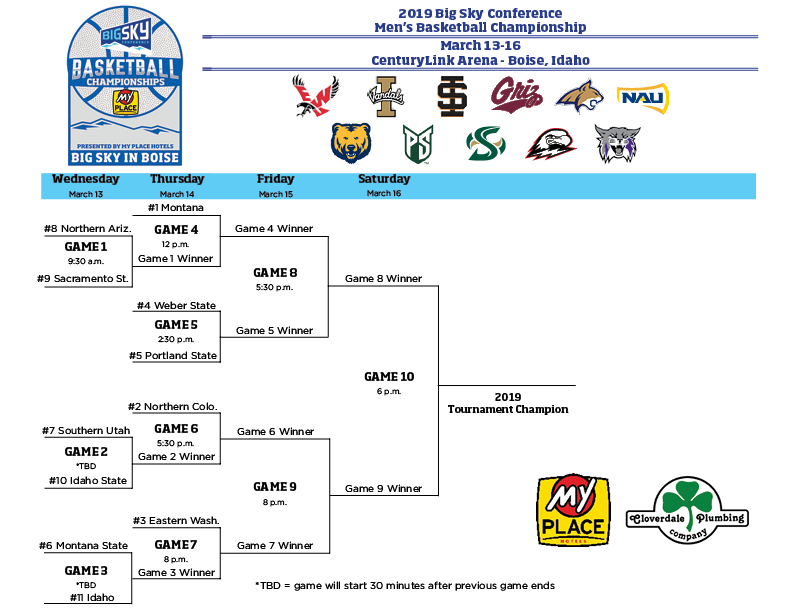 THE ODDS
Favorite
Montana +135
Other Contenders
Northern Colorado +280
Weber State +575
Darkhorse Candidates
Eastern Washington +925
Montana State +1150
Portland State +1700
Southern Utah +4000
Sacramento State +6000
Northern Arizona +6600
Idaho State +7000
Unfortunately Irrelevant
Idaho +12500
WHO TO BACK
NCAA Bracket Maximizer
Montana is the gold standard of the league recently, but Northern Colorado is nipping at their heels and has the best scorer in the league with Jordan Davis.
Best Bet
Northern Colorado +280
Montana was the defending champs heading into this season and I'd say the overwhelming favorite to repeat this year. But the Grizzlies lost their big interior man Jamar Akoh midway through the year and have had to adapt their style without him. They're shooting a lot more threes these days and the rebounding numbers have fallen quite a bit on both ends.
But Montana still won the league outright thanks to NCU blundering their senior night and dropping an OT game against Northern Arizona.
Why I like NCU to win the title that really counts in this league: 1) They're the best defensive team in the league and the best defensive team has won the Big Sky Tournament the last four years. This is an offensive league and I always like taking the best defenses in those situations. 2) They have the best player/scorer in Davis. 3) I think they'll be extra motivated to win this championship after letting the regular season slip away in such maddening fashion.
I will say there is one thing that makes me a little leery here: awards. NCU swept the individual awards with POY, ROY, DPOY, and COY all going to a different member of the Bears. Obviously that means they have good players, but it also means the experienced, defending champs – who also won the league outright this year – got zero individual awards and might be playing with a chip on their shoulder.