THE FORMAT
All 14 teams make the field, Top 10 get byes, Top 4 get a double bye. All games played on a neutral floor in Chicago. Starts on Wednesday and is the last game played on Sunday before the selection show.
First three rounds are on BTN, with the semis and championship game being played on CBS.
THE BRACKET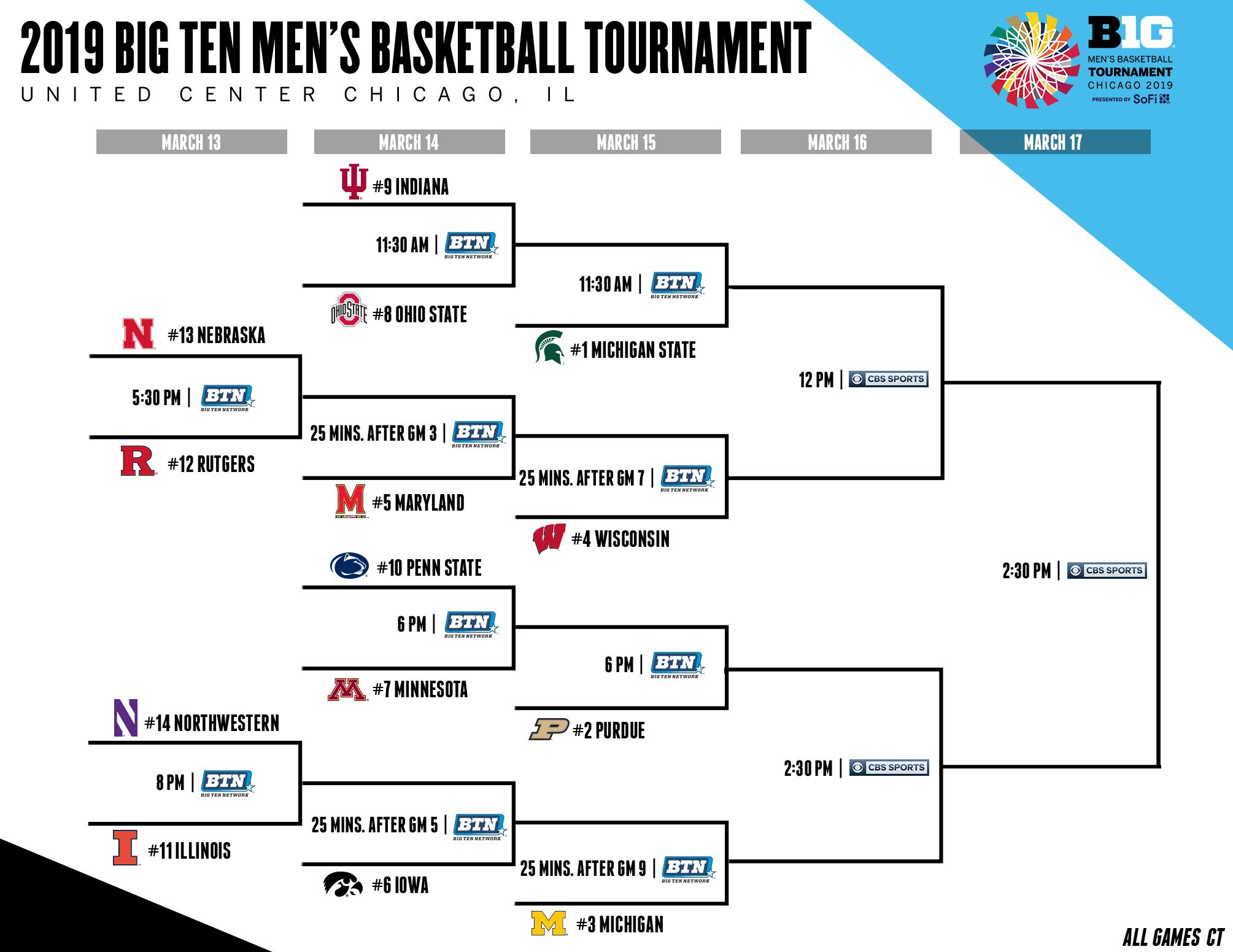 THE ODDS
Favorite
Michigan State +190
Other Contenders
Purdue +250
Michigan +350
Wisconsin +650
Darkhorse Candidates
Maryland +1550
Indiana +3300
Penn State +5000
Iowa +6000
Minnesota +6600
Ohio State +10000
Unfortunately Irrelevant
Nebraska +15000
Illinois +30000
Rutgers +30000
Northwestern +30000
WHO TO BACK
NCAA Bracket Maximizer
Excluded: Michigan State, Michigan, Purdue, Wisconsin, Maryland, Iowa, Minnesota (probably)
The Big Ten has been a little crazy over the last few weeks with some of the mid-level teams arguably playing even better than the Top 5.
Ohio State is currently playing themselves out of the field thanks to Kaleb Wesson's suspension and it might be for the best in terms of the NCAAT. They've never been the most entertaining team to watch and they didn't pick up a single victory over the Top 5 in the league.
Indiana certainly has the program cache and the starpower to make things interesting. From a basketball standpoint, I would've said they were a drag a couple weeks ago, but they suddenly started playing some entertaining offense again and I can get on board with that version of the Hoosiers.
Penn State is on a tear right now and capable of beating anybody when they're locked in defensively.
Illinois might be the most fun pick, though. They create some chaos defensively. Big Giorgi has an infectious personality. Ayo Dosunmu is a potential lottery pick. And Trent Frazier has a little bit of crazy in him and is a great shooter, which can make for some crazy shotmaking at times. But they might've hit their peak a few weeks ago.
Best Bet
Michigan +350
Based on the way John Beilein is talking, it sounds like Charles Matthews will most likely be back soon. Of the Top 4 teams that get double byes, I think the Wolverines have the best draw. They're either playing Iowa, Illinois, or Northwestern in the quarters. All three are ice cold. They're not guaranteed to have to face Purdue because the Boilers either have to play Minnesota – a terrible matchup for them – or Penn State, who is red hot.
Obviously the first two games against Michigan State didn't go well, but I hardly think it's because they're incapable of beating the Spartans. It's also hard not to like Beilein here. He's won the last two BTTs and has obviously had a lot of success in the NCAAT. He's great in these scenarios.