THE FORMAT
All 14 teams make the field, Top 10 get byes, Top 4 get a double bye. Starts on Wednesday, ends on Sunday. All games played on a neutral floor in Nashville, obviously an advantage for Van…haha, just kidding, Vandy is terrible.
You can see where to find the games below.
THE BRACKET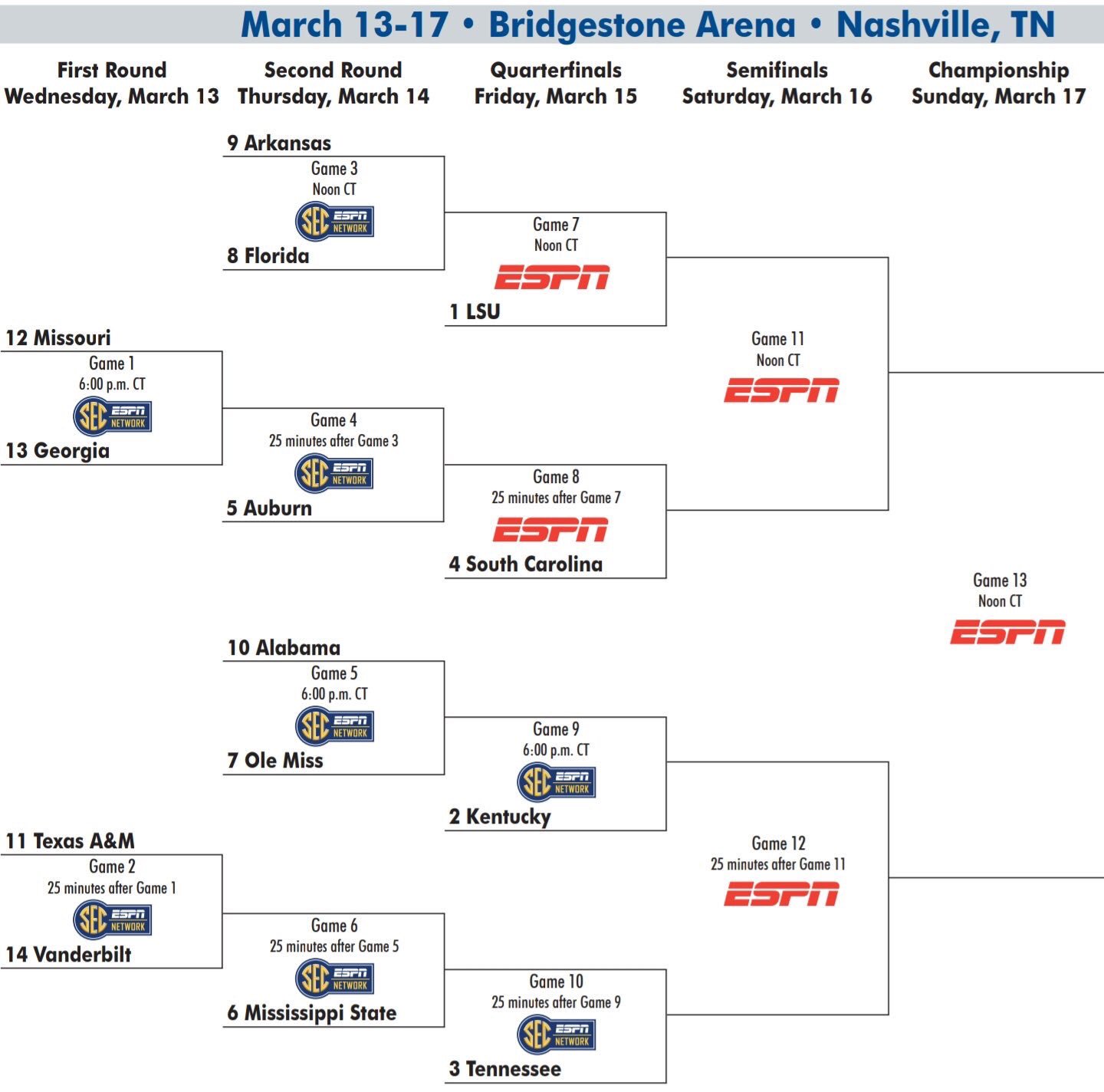 THE ODDS
Favorites
Kentucky +185
Tennessee +215
Other Contenders
Auburn +500
LSU +625
Darkhorse Candidates
Mississippi State +1350
Florida +1750
Ole Miss +4500
South Carolina +5000
Arkansas +8500
Alabama +8500
Unfortunately Irrelevant
Texas A&M +20000
Missouri +20000
Georgia +25000
Vanderbilt +75000
WHO TO BACK
NCAA Bracket Maximizer
Excluded: Kentucky, Tennessee, LSU, Mississippi State, Auburn, Ole Miss
There's a few decent options here, but I'd most like to see Arkansas probably., even though they're the furthest from actually making the NCAAT. If I have to live with another mediocre high major team in the tournament, at least give me one that plays with an element of chaos. The Hogs create a lot of turnovers, they foul a lot, and they want to get out and play in transition.
Another option is their opening round opponent, Florida. I pretty much hate the Gator offense, but they guard their asses off and I can at least respect that. If Jalen Hudson can keep up on this upward trajectory, they become a much more dangerous team. Big if, though.
I wouldn't hate to see Alabama because they have so much raw talent, but the offense can be pretty brutal at times.
Best Bet
Auburn +500
The Tigers have been rough lately in the SEC Tournament, but they come in playing better than they have recently. They were the 1 seed last year, but were on a slide heading in. This year they've won 6 of 7 and the draw sets up perfect for them.
Their opening round is against Missouri or Georgia. Please. They then would get South Carolina, who has one remotely impressive win away from Columbia this year. In the semis they would get LSU, Florida, or Arkansas. Not saying any is easy, but they're better than Florida and Arkansas and LSU is just chaos right now.
We'll see how the other side of the bracket shakes out, but Auburn is capable of taking out either of the two favorites.