THE FORMAT
All 12 teams make the field, Top 4 get byes. Games are all played on Memphis' home floor. Games start on Thursday and end Sunday.
First round is on ESPNU. Second round is on ESPN2 and ESPNU. Semis on ESPN2. Final on ESPN.
THE BRACKET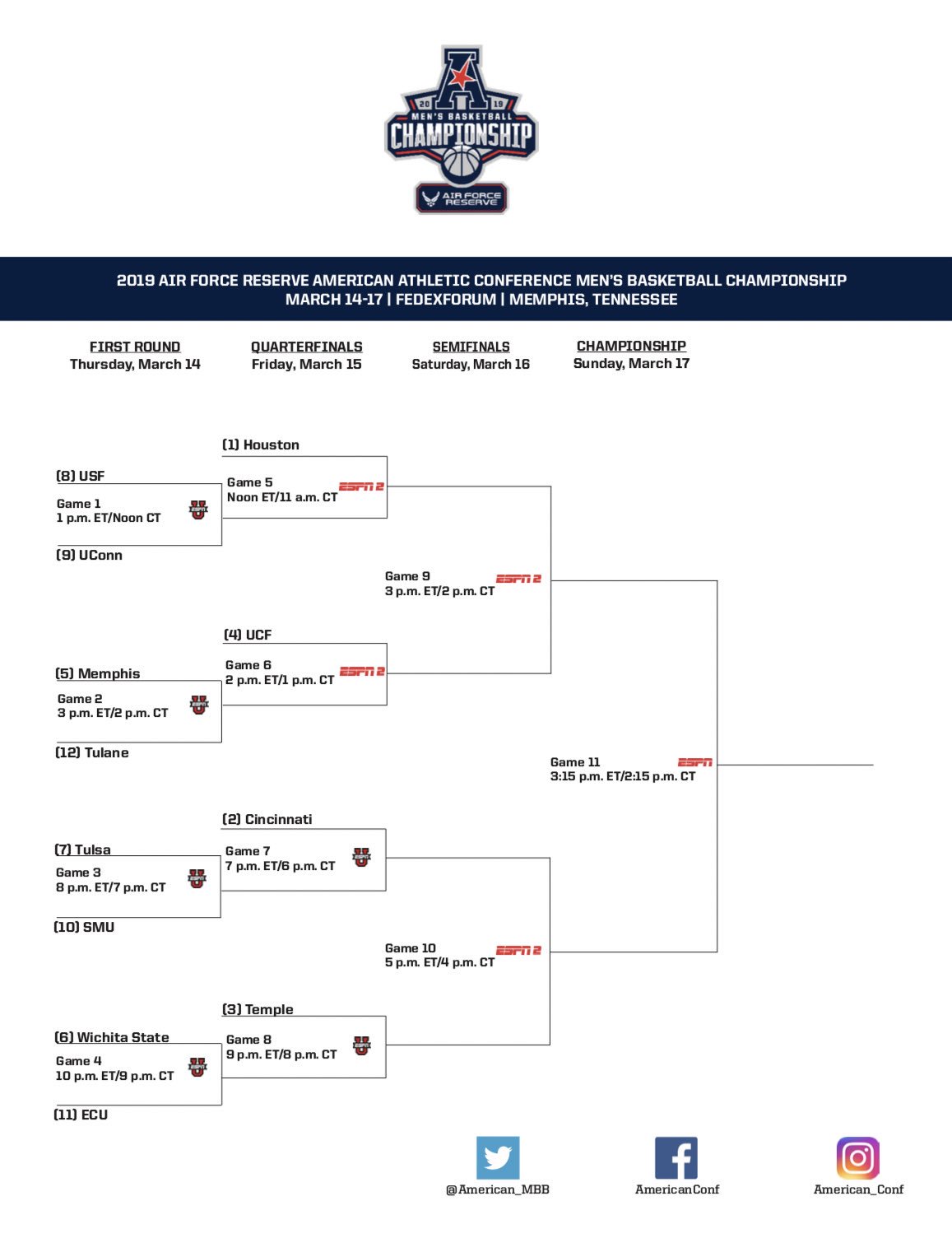 THE ODDS
Favorite
Houston +105
Other Contenders
Cincinnati +220
UCF +450
Temple +600
Memphis +800
Darkhorse Candidates
Wichita State +1700
UConn +5000
SMU +5000
Tulsa +6000
USF +6000
Unfortunately Irrelevant
Tulane +10000
East Carolina +30000
WHO TO BACK
NCAA Bracket Maximizer
Excluded: Houston, Cincinnati, UCF 
Temple is the closest right now to making the field and that would be a fun story with it being Fran Dunphy's last year. The Owls have some talented guys and I can't hate on them.
But it's hard not to back Memphis here. The Penny factor is huge. Not just because he's Penny Hardaway, but the resentment he seems to elicit from fellow coaches kinda makes me pull for the guy because most coaches kinda seem like assholes, if we're being honest. The Tigers also never stop running, are always on the attack, and play with a bit of reckless abandon out there. Is it the purest form of basketball? Not really, but it's entertaining as hell.
Best Bet
Wichita State +1700
I mean, it's just staring you right in the face, isn't it? The Shockers have had a down year like they were expected to after all they lost last year. But it's starting to turn around. They've won 9 of their last 11, only dropping a close game at home to Memphis and a road game at Cincinnati. The team can't shoot to save its life, but they've saved themselves by getting second-chance opportunities and taking care of the ball.
The draw sets up pretty nicely for them. They can only play one of the favorite (Houston) or the home team (Memphis). Their first round game should be no problem with ECU. They lost their only matchup with Temple, but that was back in early January. The season started to turn around a month later. Cinci would be a tough matchup in the semis, but the Bearcats have not been playing their best basketball at the end of the season. The Shockers have had convincing victories over both SMU and Tulsa recently.
It's his worst team in a while, but Gregg Marshall has proven himself to be one of the best coaches in the country and he's accomplished a lot in March, especially at a mid-major program. Put a small amount on it and let it ride.