THE FORMAT
8 of 9 teams make the field. Cal Baptist isn't eligible for the postseason, so they have to sit out. Standard bracket otherwise, with games starting on Thursday and finished by Saturday in Las Vegas. First couple rounds are on ESPN+ with the championship being shown on ESPNU.
THE BRACKET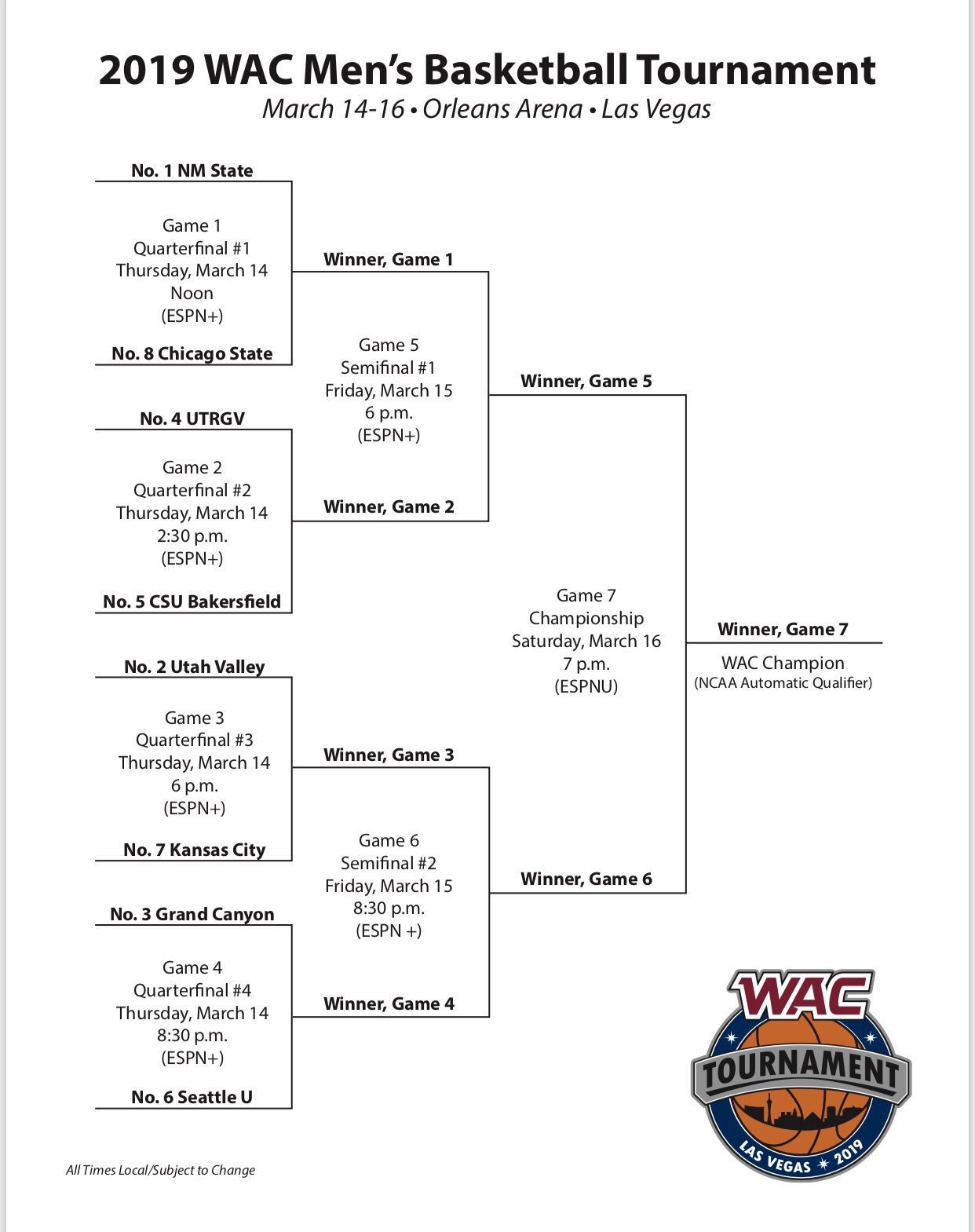 THE ODDS
Favorite
New Mexico State -230
Other Contenders
Utah Valley +410
Grand Canyon +500
Darkhorse Candidates
UTRGV +1700
Seattle +2500
CS Bakersfield +3500
Unfortunately Irrelevant
UMKC +10000
Chicago State +500000
WHO TO BACK
NCAA Bracket Maximizer
It's a very strong Top 3 for the WAC, but New Mexico State is the pick. The Aggies are a legit team. They've won 15 in a row. They nearly beat Kansas in Kansas City back in December. They're one of the best rebounding teams in the country. The Aggies have made six of the last seven tournaments.
Grand Canyon obviously has the Thunder Dan Majerle factor and with that comes the Thunder Dan Majerle Tan factor.
Best Bet
Utah Valley +410
Not only is NMSU the best team here, but they essentially get a bye with Chicago State.
But UVU has won seven straight and 10 of their last 11. Their last two losses have been to NMSU, but both of those were tight games and they should've won at home, but let it slip away. The Wolverines can shoot it all over the floor, but turnovers can be their downfall.
Grand Canyon's not a bad option either, but they come in losing their last three and just haven't been as steady as UVU. They also have a more loseable first round game against Seattle.
Speaking of Seattle, they'd probably be my pick for a darkhorse. They've won five of six heading in, but in order to win the thing they'd probably have to beat all three of the Top 3 and they've gone 1-5 against them this year.