AWARDS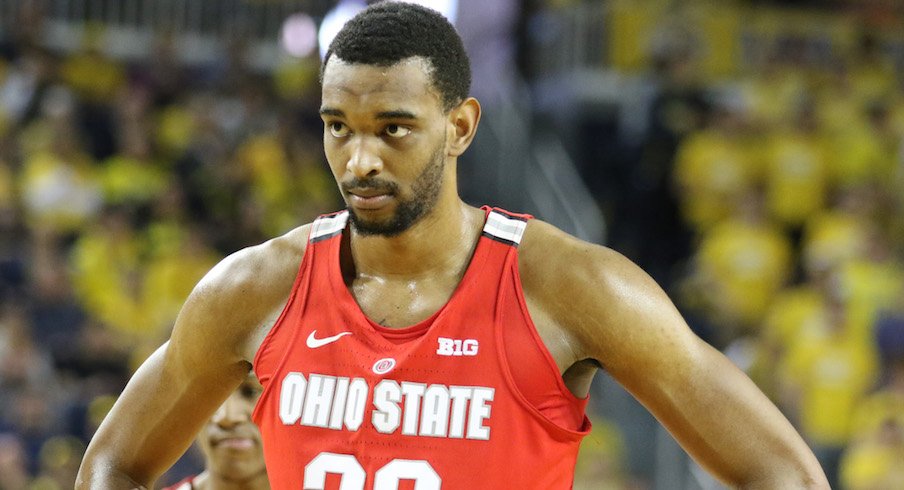 Player of the Year
Keita Bates-Diop, Ohio State
This should be unanimous. There are some other really talented guys that will join KBD on the first team, but he separated himself early and never really let up. No offense to his teammates, but without KBD they're an NIT team at best. If you look at individual Top 10 lists for every statistical category, Bates-Diop is on nearly every single one of them. It's an easy pick.
Defensive Player of the Year
Jaren Jackson, Michigan State
The only real argument against Jackson here is his propensity for fouling. Admittedly, it takes him off the floor too often, but his impact on the defensive end is undeniable. His individual defensive rating for the year was 84.4, three points better than anybody else in the league. Jackson's an elite shot blocker. There were SIX Big Ten games this year where JJJ had 5 or more blocks and only on three occasions did he not have at least two.

Freshman of the Year
Jaren Jackson, Michigan State
On the offensive end, Jackson scored 12.4 points per game with .563/.429/.781 shooting splits. He's pretty good.
Sixth Man of the Year
Justin Smith, Indiana
I found this award unbelievably difficult to choose. You could make a case for several guys. Smith started eight Big Ten games this year, but I thought he did his best work late in the season when he was coming off the bench. I'm preferential to Smith over a lot of other guys because I felt like IU was more dependent on him playing well than McQuaid for MSU, Taylor for Nebraska, or Haarms for Purdue. When the Hoosiers lost De'Ron Davis midway through the season, they needed somebody to step up and Smith – along with Freddie McSwain – did that.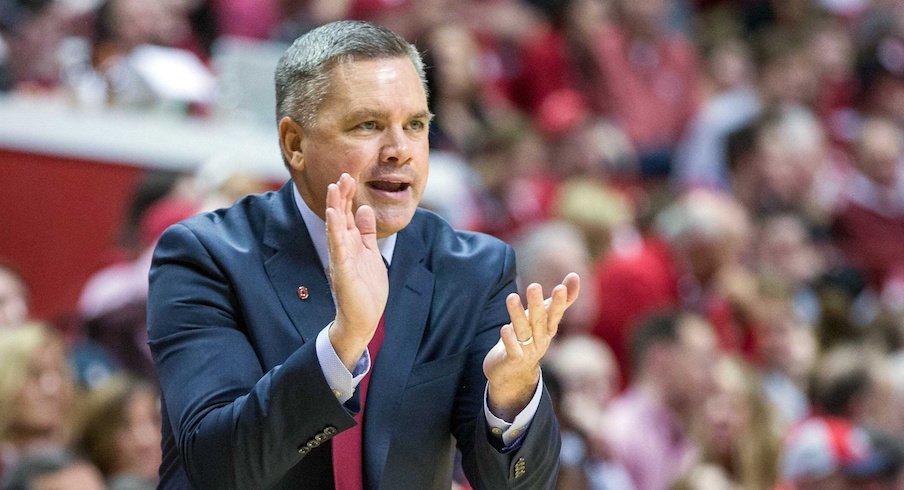 Coach of the Year
Chris Holtmann, Ohio State
I was right there with the Big Ten media in voting OSU 11th before the season started. Here's my take from the preview:
Consensus Outlook: They'll rely heavily on Jae'Sean Tate, Kam Williams, and Keita Bates-Diop. There's talent, but maybe not the type of talent that Chris Holtmann would prefer in terms of system fit.

What They're Not Saying: This program needs a big-time culture change. The good news on that front is that perpetual pouty faces JaQuan Lyle and Marc Loving are now gone. I believe Thad Matta to be a great coach, but he didn't seem to have the same juice the past couple years due to his poor health. Chris Holtmann should bring a youthful passion to that position that was probably necessary.

Projection: There's still quite a bit of talent in Columbus, but clearly there's been other issues in the program. I think Holtmann will do a great job there, but I'm not sure the results will appear as fast as Buckeye fans would hope.
Turns out Holtmann can win with any type of talent. Having KBD helps, but the defensive improvement the Buckeyes made this year was incredible.
First Team
Keita Bates-Diop, Ohio State
Miles Bridges, Michigan State
Carsen Edwards, Purdue
Tony Carr, Penn State
James Palmer, Nebraska
KBD is obvious.
I think Bridges might be a unanimous selection. He's the best player on the best team, but his numbers this year aren't the gaudiest compared to some of the competition.
For me, the younger Edwards should be the Purdue representative and I imagine the tear he's been on lately will help. A couple of his teammates have a case, but on such a balanced team, Carsen is the only one who's able to score outside the structure of the offense and it makes him the most important player on their team moving forward.
Tony Carr seems to be a bit polarizing for people who watch a lot of the league. Some identify him as the best guard in the league. Others consider him to be a ball hog whose ball hoggyness is a detriment to Penn State. I think you could make a case Carr is the best guard in the league, but you could probably make a similar case for Edwards, Cassius Winston, and Anthony Cowan. AND sometimes he shoots too much.
If I had to bet, I would guess Palmer doesn't actually make the first team. I obviously think he should. Tim Miles has never been a very good offensive coach and Palmer is the focal point of his best offense in 13 years of D-1 coaching. He's a better passing, more efficient Terran Petteway. Nebraska may not make the tournament, but Palmer is still the leading man on a 13-5 Big Ten team.
Second Team
Juwan Morgan, Indiana
Ethan Happ, Wisconsin
Jaren Jackson, Michigan State
Vincent Edwards, Purdue
Cassius Winston, Michigan State
Morgan was probably the toughest guy for me to leave off the first team. He absolutely carried IU through the middle of the Big Ten schedule when they were playing a lot of tough games.
I'm guessing Happ makes first team. I don't have a huge problem with that. He certainly has the numbers and his team would be Pittsburgh-level bad without him. But there's a lot of deserving guys and at some point winning has to be a factor.
Jackson might actually be the best player in the league. He's ultra-efficient, an elite defender, and there's not much he can't do. But due to the overall talent on MSU, Jackson didn't always need to do much and most guys mentioned here didn't have the same luxury.
Put simply, Edwards does pretty much everything for Purdue.
I swear Cassius Winston hits every big shot he takes. And if he's not hitting them, he's likely assisting. Winston doesn't garner the media attention that Bridges and Jackson do, but he might be the most important player on the team. He's the best traditional point guard the league has seen in a while and his ability to set the table – while also being a scoring threat – is what makes them so dangerous offensively.
Third Team
Jae'Sean Tate, Ohio State
Mike Watkins, Penn State
Anthony Cowan, Maryland
Isaac Haas, Purdue
Muhammad-Ali Abdur-Rahkman, Michigan
I've always been a big fan of Tate, which mainly started out because his effort and appearance to actually enjoy playing basketball stuck out like a sore thumb around some of his teammates the past couple years.
Watkins' value will always largely be found on the defensive end, but a league-leading 70% EFG percentage doesn't hurt either. In terms of importance to his team, Penn State was trending way up until the last three games when he was only able to play a combined 14 minutes and the Nittany Lions dropped all three.
In the best guard conversation, Cowan can claim the consistency crown. He's about as steady as they come and he's improved almost every part of his game from a year ago.
No one affects a gameplan quite like Haas. He doesn't always produce, but his presence alone makes all of his teammates better.
MAAR probably won't make it, but as soon as he took more control of the Michigan offense, they took off as a team. It's made the Wolverines as dangerous as anybody else in the league.
Toughest guys to leave off: CJ Jackson, Isaac Copeland, Mo Wagner, Josh Reaves, Lamar Stevens, Dakota Mathias, Kevin Huerter, Jordan Murphy, Leron Black
Defensive Team
Jaren Jackson, Michigan State
Mike Watkins, Penn State
Keita Bates-Diop, Ohio State
Josh Reaves, Penn State
DeShawn Freeman, Rutgers
For my money, Reaves is the best on-ball defender in the league and might be as important as Watkins defensively for the Nittany Lions.
Freeman's unlikely to get any attention because of the team he plays for and the fact it's so difficult to quantify individual defensive numbers. But there are some measures out there and here's where Freeman ranks in the Big Ten: 5th in steals per game, 4th in steal %, 7th in defensive rebounding %, 3rd in defensive rating, 5th in defensive win shares (on a team that doesn't win a lot), and he's just outside the Top 10 in defensive box plus/minus. He's constantly deflecting passes. If you actually subject yourself to Rutgers games, his constant effort and activity is noticeable.
There are a lot of guys that could make this list, buy you can only pick five out of a big pool.
Freshman Team
Jaren Jackson, Michigan State
Luka Garza, Iowa
Kaleb Wesson, Ohio State
Brad Davison, Wisconsin
Trent Frazier, Illinois
I made the list before Sunday's games. I amended the list after watching Brad Davison light up Michigan State. He was the last cut until that happened, but now that distinction belongs to Bruno Fernando. I'm sorry, Bruno. It wasn't a star-studded year for freshmen, but there are quite a few guys who will likely be around for four years. So that's something.
---
TOURNAMENT PREVIEW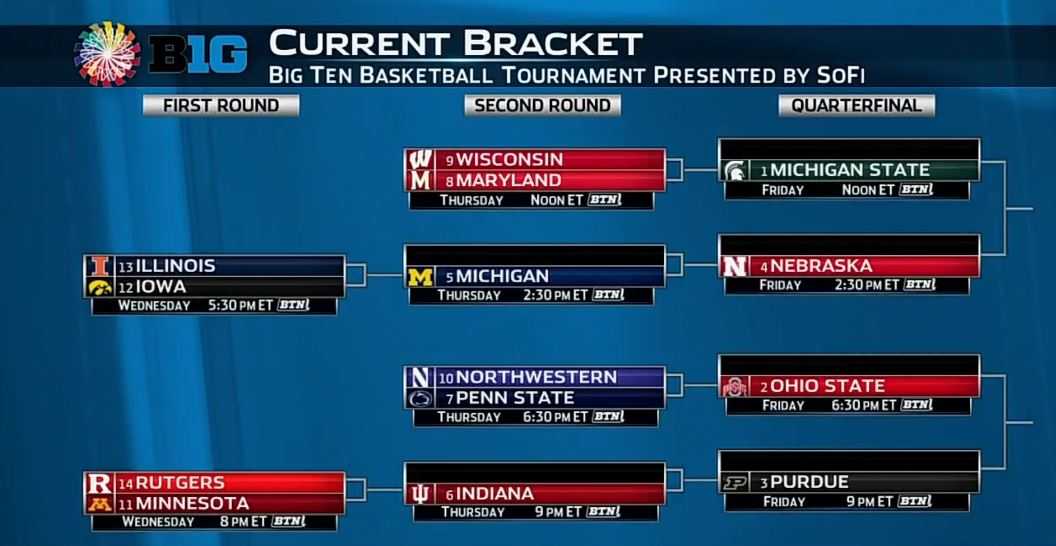 Favorite
Michigan State (1 seed; +225)
They've played close games on the road with both Wisconsin and Maryland, but I'm not sure you worry much about their first game on Friday now that it's a neutral floor. But I've pretty much been on the "MSU is overvalued" train for a while now. They're good obviously, but based on their head-to-head matchups with these other Top 4 teams, would you really say they should have considerably lower odds than the rest? They're also on the same side of scorching hot Michigan and the Wolverines already rolled them once in East Lansing.
With that said, Izzo squads have won three of the last six.
Probable Runner-Up
Purdue (3 seed; +400)

It appears as though Purdue has found their way out of a recent slump and they've started to shoot well again. I thought their side of the bracket broke pretty well for them in terms of matchup advantages. That's not to say (probably) IU and (probably) Ohio State are a walk in the park by any means, but it could've been worse for them.
On the flip side, this event hasn't always been the kindest to them. Painter won the championship in 2009 and the upperclassmen on this team made the title game a couple of years ago, but otherwise it's been a lot of quick exits.
Best Value Bet
Michigan (5 seed; +800)

Who's playing better right now? They've maintained their level of play defensively and now the offense is starting to take off with MAAR in more of a leading role. The problem for the Wolverines is that they've got the toughest road of the four teams with the lowest odds.
I don't hate IU at +2000 either. They've competed with the best the league has to offer, but those have all occurred at home. Still, they've kept steadily improving all year. I'm not sure the Hoosiers at 20-1 is exactly "value", but it's a darkhorse option.
I should point out for both that a non-Top 3 seed has only won this tournament three times. Of course one of those was Michigan a year ago as an 8 seed.