Power Rankings?
The last few weeks I've been working on a system to use as a predictor for the outcome of games. It's one of the few times in my life I've really wished I was a big computer nerd. Probably could've accomplished what I wanted to accomplish in like two hours, tops. More on that later.
But through the process, I realized I could make a power rankings and if you've been a loyal follower of this blog, you know nothing makes me wet quite like an opportunity to put together a meaningless set of rankings.
Are they really that different from most of the predictive rankings you see out there? Not really! They're probably slightly worse due to two reasons: 1. they originated from my brain and 2. it's probably riddled with clerical errors.
Anyway, here's the Top 25:
| | | |
| --- | --- | --- |
| MLP Rank | Team | CFP Rank |
| 1 | Ohio St | 13 |
| 2 | Oklahoma | 5 |
| 3 | Georgia | 1 |
| 4 | Alabama | 2 |
| 5 | Oklahoma St | 15 |
| 6 | Penn St | 14 |
| 7 | Auburn | 10 |
| 8 | Clemson | 4 |
| 9 | Notre Dame | 3 |
| 10 | UCF | 18 |
| 11 | Virginia Tech | 17 |
| 12 | Wisconsin | 8 |
| 13 | TCU | 6 |
| 14 | Washington | 9 |
| 15 | USC | 11 |
| 16 | Michigan St | 12 |
| 17 | Michigan | NR |
| 18 | Wazzu | 19 |
| 19 | Texas | NR |
| 20 | Miami (FL) | 7 |
| 21 | Miss State | 16 |
| 22 | Iowa | 20 |
| 23 | NC State | 23 |
| 24 | LSU | 24 |
| 25 | GA Tech | NR |
I'll be the first to admit it: not a great look that Ohio State is first and Alabama is fourth. Not good! However, it's pretty explainable. Strength of schedule is weighted pretty heavily and facts are facts: the Tide's schedule so far has pretty much stunk. Their raw numbers otherwise are hurt by the fact that they pull the starters in the third quarter like 75% of the time.
Also, Ohio State is still second in S&P+, ESPN's FPI, and TeamRankings.
Otherwise, I kinda like it.
Your Top 5 Group of 5 Rankings:
UCF (10)
USF (27)
Toledo (31)
Boise St. (37)
San Diego St. (38)
Your Bottom 5 Power of 5 Rankings:
Kansas (126)
Oregon St. (107)
Illinois (106)
Rutgers (105)
Tennessee (94)
Learn to Love Again
I'm talkin gamblin. The first nine weeks were nothing but unrelenting torture. But not last week! It was a huge week. 13-5 with half of 14 underdogs cashing the moneyline as well. It was beautiful.
Of course we're nowhere near a profit for the season yet. Whatever.
Last week was the first week I felt like I started to understand how to evaluate the outputs the system was telling me and about 13 of those picks were purely based on those outputs. Expect a lot of underdog picks the rest of the way.
So we're feeling good. I should also mention the season-long picks are doing quite well.
Right now we're on the quest to get close to breaking even. Here's this week's picks.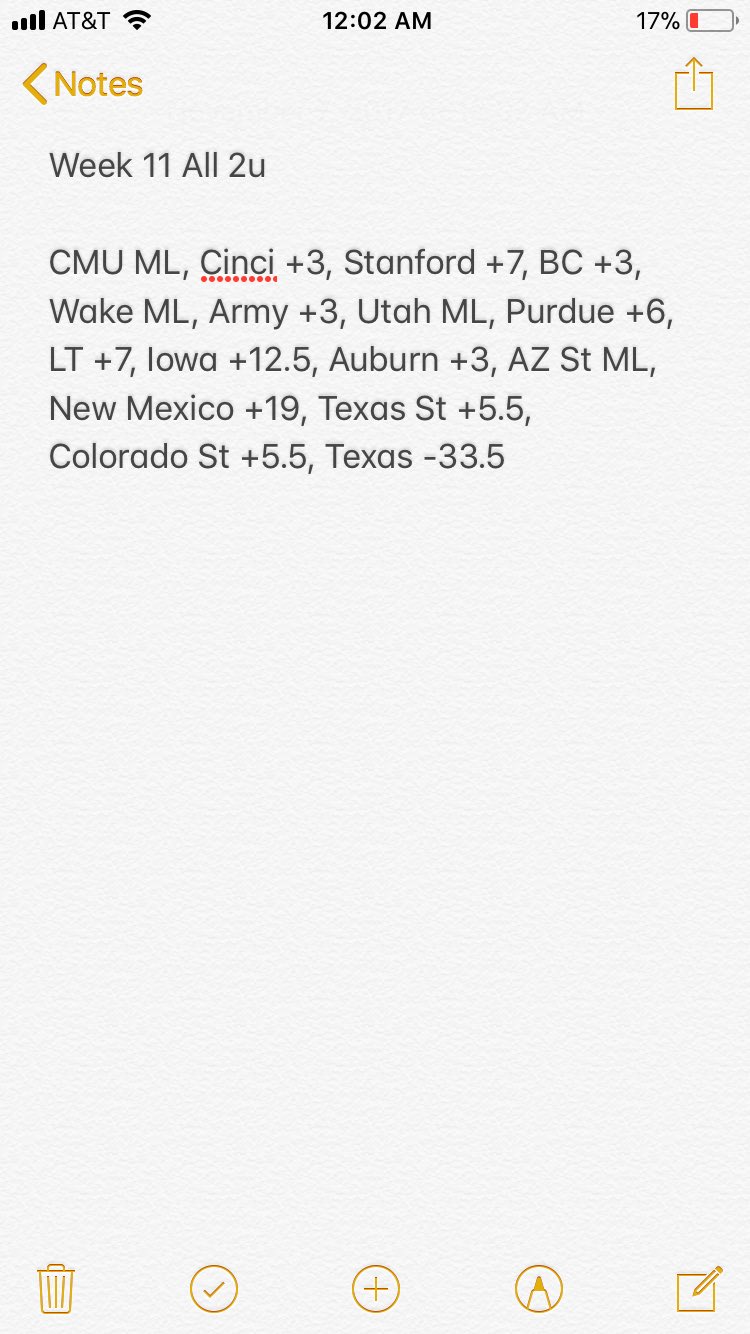 Ramblings
I've just got some takes that I need to get out.
The above rankings support my general thoughts that UCF is criminally underrated when it comes to the CFP rankings so far. The Knights are at 18, which I can't help but notice is 10 and 9 spots behind Wisconsin and Washington, respectively. Why are they important to UCF? Well, the biggest knock on UCF is what? That they're in the AAC and that must mean that their schedule is so much easier than teams like the UWs. Except to this point, it's not. If you look at TeamRankings' SOS numbers, UCF is 63rd, Wisconsin is 58th, and Washington is 53rd. And Washington has a loss! UCF has beaten one team in the CFP Top 25 (Memphis by 27 at home), as has Wisconsin (NW by 9 at home), and meanwhile Washington doesn't have a single one. And Washington has a loss! I'd love to hear a logical explanation of the rankings of those three teams. (SPOILER: It doesn't exist)
As someone who holds a Saquon +1400 Heisman ticket, I have no idea why he's been considered the Heisman favorite. I feel like during every recent Penn State game, one of the commentators has said something along the lines of "Barkley is a Heisman favorite, but this has not been one of his better games." It's so odd to me. He's rushed for over 100 yards three times this year. THREE!
Speaking of Penn State, if James Franklin doesn't scream "phony" to you, I think you're a terrible judge of character. Sprinting after his players after last week's loss to Michigan State so that they would shake hands was quite the show.
I grew up hating Notre Dame, but I find myself rooting for them and it's weird. Maybe it's because I have a season long bet on them (it's definitely that), but that's nearly over. Brian Kelly is the worst. My childhood was basically one long argument with reversible jacket ND football/IU basketball fans. But still, I'm legitimately pulling for them and I can't figure out why.
San Jose State has to be one of the most incapable, incompetent football teams I've ever seen.
I forget Georgia Southern's head coach's name right now, but nobody has ever put a program in a tailspin faster than that guy.
James "Junkyard Jim" Washington is my favorite college receiver since Michael Crabtree.
I like the playoff and all and sure I love a good hypothetical, but it sucks that every national radio show just devolves into six weeks of hypothetical playoff situation talk and ignores like 115 out of the 130 programs during that stretch.
I just somehow found out about The Solid Verbal podcast early this year and it makes me mad at everyone I know for not telling me about it for the past, like. 8 years.
College football is the best. Well, until college basketball starts.